Learn about RxTakeBack® and how your facility can answer the Needs of YOUR community!
PharmaLink's RxTakeBack® program provides pharmacies with an innovative method to safely comply with the requirements of the DEA Secure and Responsible Drug Disposal Act of 2010, by creating an outlet for patients (ultimate prescription users) to dispose of unwanted medications including house-hold prescriptions including controlled substances.
[virtual_slide_box id="1″]
[virtual_slide_box id="2″]
[virtual_slide_box id="3″]
     Gerrett Fernander, New Albany Police
The installation is complete and we are beginning to advertise it to the wider community. The City administration is very excited about it. The process, I thought, was pretty seamless, especially when considering that your company does not traditionally market to police departments. Your help was greatly appreciated! We look forward to continuing the relationship with Pharmalink and if other police departments seek information we will share our positive experience with them. Thanks again!

Cost Effective
Cost-effective turn-key solution for consumer take back and disposal needs

Exceed Standards
Meets and exceeds regulatory requirements of the DEA Secure and Responsible Drug Disposal Act of 2010

Exceptional Tracking
Web-Based system to track disposal and usage

Visibility
View progress and usage across multiple collection sites

Trusted Partner
Supported by an industry leading, full service, licensed reverse distributor

Marketing Support
Consumer facing marketing materials and support that drives traffic and revenue to your stores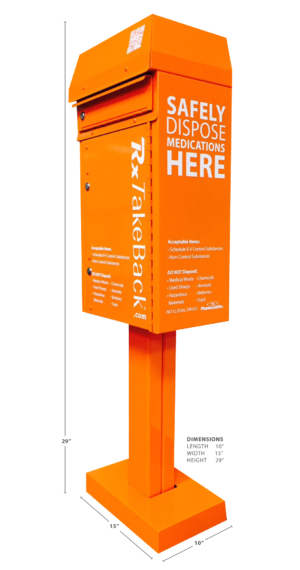 The RxTakeBack® Kiosk complies with all Federal Regulations related to the Secure and Responsible Drug Disposal Act of 2010.  This unit resides in your facility as the point of collection for your consumer prescription take-back program. With a 100% Stainless Steel construction and a pleasing aesthetic, our Consumer Take-Back kiosk is built securely to withstand tampering and prevent drug diversion.

Our kiosk comes fully assembled with mounting brackets and instructions making it easy to install

Sturdy stainless steel kiosk, base, and fasteners allow your facility to operate with confidence

Space saving design makes our kiosk ideal for independent pharmacies
The RxTakeBack® Liner is designed in response to the DEA's Secure and Responsible Drug Disposal Act of 2010. The streamlined design of our kiosk liner ensures discreet and safe transport of products from collection to ultimate disposal, you can rest assured knowing this product is safely removed from the community.

Cradle-to-grave tracking on all liners

Heavy weight corrugated box construction

Fixed cost includes all shipping and documentation